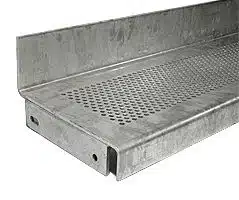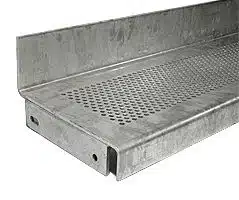 Perforated Stair Treads Type 20
Type 20 Perforated Stair Treads improve stair aesthetics as well as visibility and safety for pedestrians in commercial stairwells.
Our Perforated Metal Stair Treads are perfect for use in commercial construction of steel stairs that need to be slip resistant and do not require a concrete fill.
All of our stairpans are manufactured in square to make your installation process quick and simple.
OUR STAIR Treads ARE FORMED IN SQUARE AND DON'T REQUIRE ANY REWORK TO FIT YOUR FABRICATED STRINGER CHANNELS.
Perforated Stair Treads are manufactured in the same manner as non-perforated treads, with an extra CNC step added for hole perforations or slots. Custom patterns are also available. Add the building's name or recognize a person by adding their name to the riser.
Stair treads are manufactured from high quality steel, in a variety of configurations and lengths to fit your needs. They are manufactured in a range of material thicknesses: from 1/8" to 3/8" thick, with our without welded carrier plates.
We provide the two main stair tread components for your commercial stair system: the tread, which makes up the main portion of your stair system, and the landing tread, which fits into the landing floor plate.
With decades of experience manufacturing diamond plate steel stair treads for the commercial building industry, you can trust that Eberl stair treads are manufactured out of only the highest quality sheet and plate steel, and are formed with the tightest of tolerances, improving efficiency of installation for commercial steel stair fabricators.
Stair Components and Systems stair treads are available in standard shapes and sizes and are also customizable to your dimensions upon request.
If you're ready to order, check the DOWNLOADS tab for order forms!
Stair Treads are available in standard shapes and sizes and are also customizable to your dimensions upon request.
MATERIALS
Hot Rolled Steel
Cold Rolled Steel
Pre-Galvanized
Hot-Dipped Galvanized
Stainless Steel
Aluminum
OPTIONS
Carrier Plates (Welded-On)
Bolt-Holes Punched in Treads
Primer Coated (Red Paint, Unless Otherwise Specified)
Highly Recommended!
"Eberl Iron Works, Inc. has met or exceeded our expectations for quality bending of our stair pans and other bent plates. We have yet to encounter any problems with quality or quantities when ordering material with Eberl Iron. Eberl Iron's friendly staff has yet to let us down. We highly recommend Eberl Iron for custom bending."
Johnny | NU Risers Stair Co., LLC
All Of Our Stairpan Business Belongs To Eberl!
"Thank you so much for working with us and replying so promptly. ALL our stair pan business belongs to Eberl. You folks have it earned with your pricing, service and amazing quality."
Great Customer Service and Quality of Work!
"We really appreciate your customer service, as well as your quality of work. The fabricators in my shop prefer I buy stair pans from Eberl, because they are always accurate and fit up perfectly. Thanks again for all you do and we look forward to future business with you."
Great Job!
"Eberl Iron recently fabricated some stair pans for us on a project we had in Woods Hole, Mass. You did a great job!"
Dave I Village Forge Inc.