Download the Complete Manual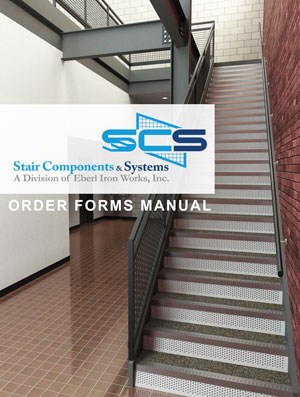 Download the complete Eberl Stair Components & Systems Order Forms Manual.
All order forms are in fillable PDF format – simply open after downloading, click on the cell you would like to enter information into and begin typing.
Save your information and send it to us via email or fax.
Download Individual Product Order Forms
Stairpans (Solid and Perorated)
| | | |
| --- | --- | --- |
| | Type 1A Stairpan | |
| | Type 1B (w/ Sanitary Cove) Stairpan | |
| | Type 1C (w/ Nosing) Stairpan | |
| | Type 1D (w/ Sanitary Cove & Nosing) Stairpan | |
| | Type 2A Stairpan | |
| | Type 2B (w/ Sanitary Cove) Stairpan | |
| | Type 2C (w/ Nosing) Stairpan | |
| | Type 2D (w/ Sanitary Cove & Nosing) Stairpan | |
| | Type 3A Stairpan | |
| | Type 3B (w/ Sanitary Cove) Stairpan | |
| | Type 3C (w/ Nosing) Stairpan | |
| | Type 3D (w/ Sanitary Cove & Nosing) Stairpan | |
| | Type 4A Stairpan | |
| | Type 4B (w/ Sanitary Cove) Stairpan | |
| | Type 4C (w/ Nosing) Stairpan | |
| | Type 4D (w/ Sanitary Cove & Nosing) Stairpan | |
Stair Treads (Diamond Plate and Perforated)
| | | |
| --- | --- | --- |
| | Type 20 Diamond Plate of Perforated Stair Tread (shown w/ Carrier Plate) | |
| | Type 25 Diamond Plate of Perforated Stair Tread (shown w/ Carrier Plate) | |
| | Type 26 Diamond Plate of Perforated Stair Tread (shown w/ Carrier Plate) | |
| | Custom Spiral Stair Tread | |
Stair Landing Pans
Carrier Angles & Nosings