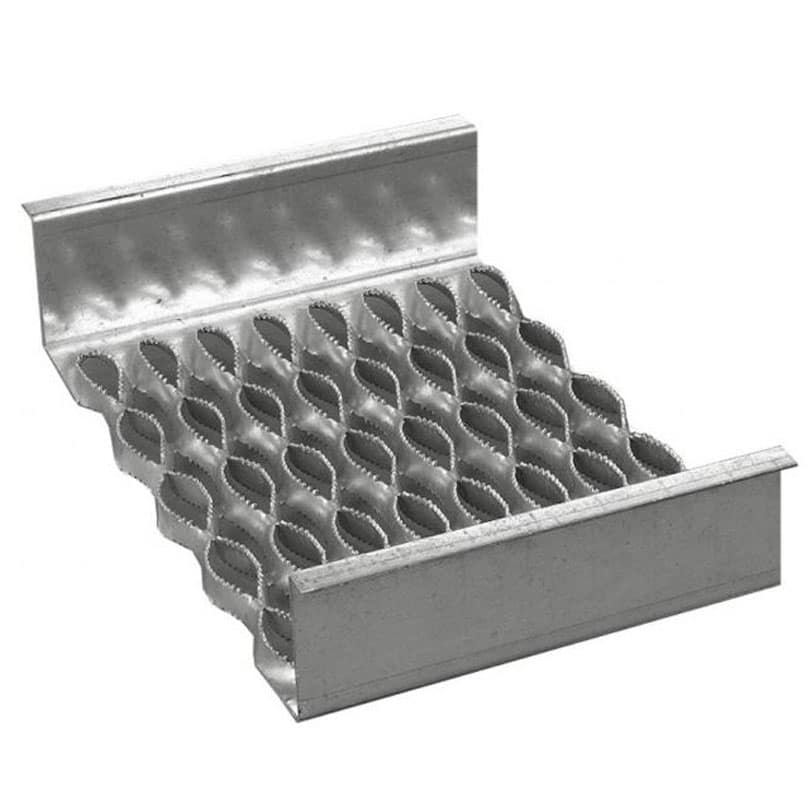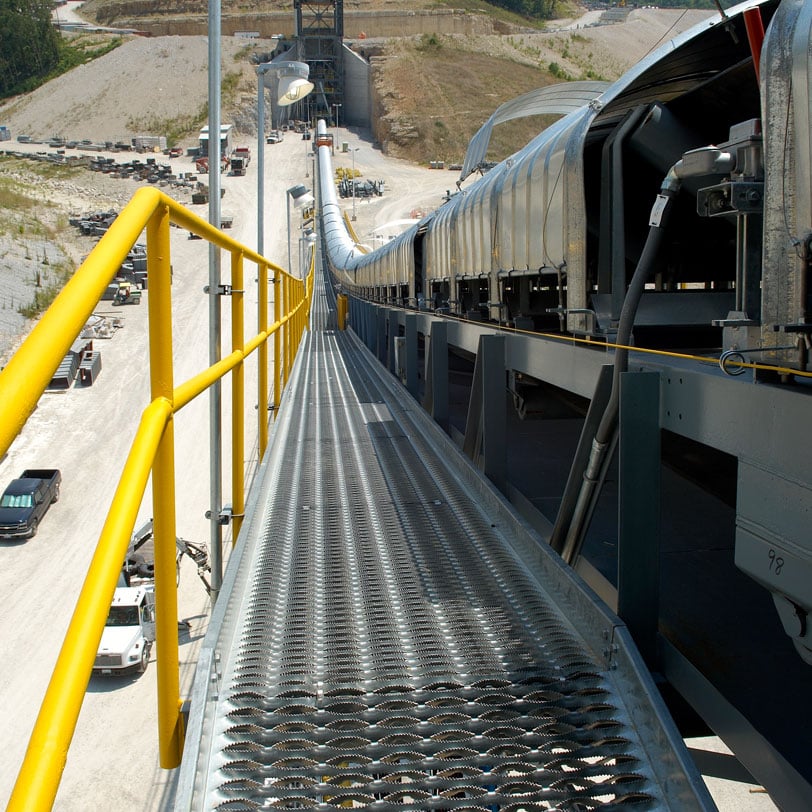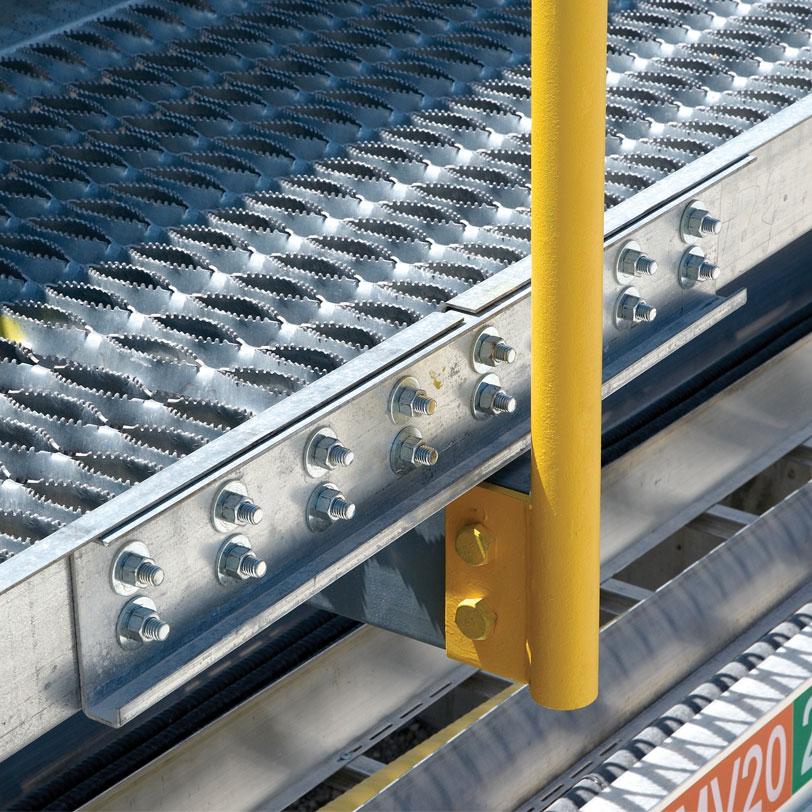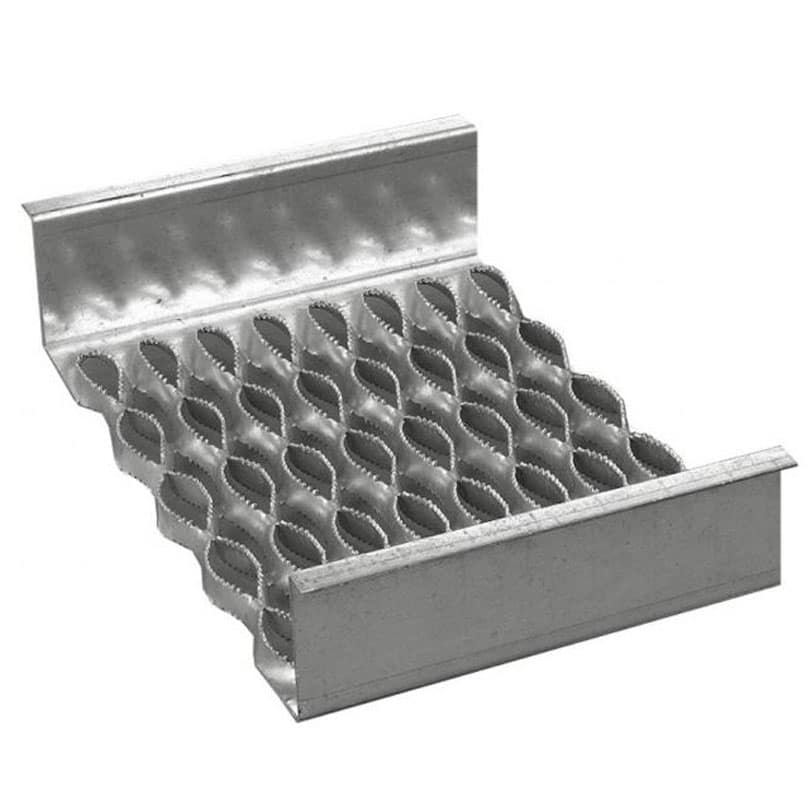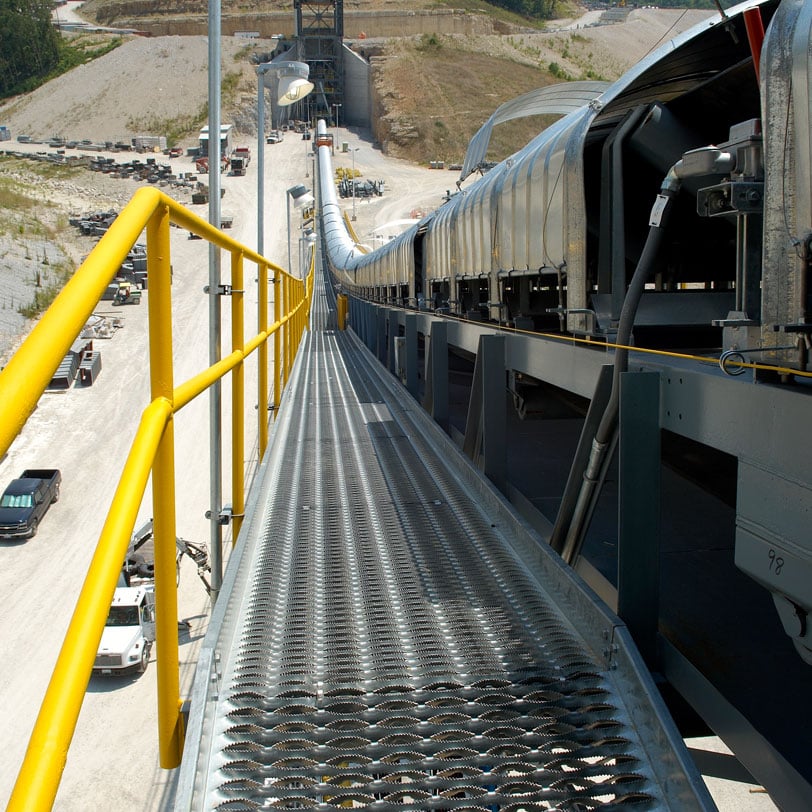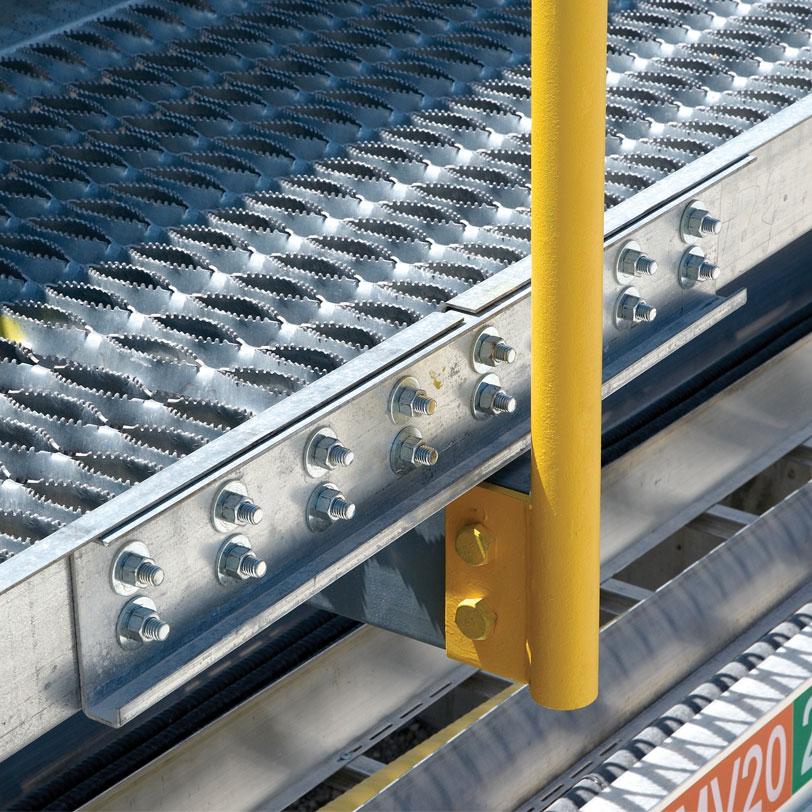 Heavy Duty Grip Strut Walkway
Heavy Duty GRIP STRUT safety grating's serrated surfaces grip soles securely in all directions. These non-slip sheared edges are ideal for both indoor and outdoor locations — wherever mud, ice, snow, oil and detergents can create hazardous walking conditions.
Openings allow fluids, chips, stones and mud to quickly drop through. Ice easily shears off under normal foot pressure. Open design is easily cleaned with a brush, liquid or air spray.
Heavy Duty Grip Strut safety grating products offer the advantage of regular Grip Strut safety grating, but are designed for applications of greater load and/or longer span. Basic design is the same, but diamond openings are larger and metal is thicker. Heavy Duty grating products are available in many of the same configurations, materials and finishes as regular Grip Strut safety grating.
Heavy Duty Grip Strut safety grating walkways, like Heavy Duty planks, offer additional strength for walkway applications with greater load requirements. Grating surface design is identical. The walkway difference is in the side channels, which are turned up as 5 inch toeboards, complying with OSHA requirements. Walkways offer all the slip-resistance and self-cleaning advantages of planks, and are available in the material and thickness combinations shown above.
Heavy Duty safety grating walkways are ideal for many types of applications. They are equally at home in process plants, refineries, grain elevators, conveyor walkways and large machines in paper mills.
HD Grip Strut walkways incorporate 5 inch integral toeboards, complying with OSHA regulations (appropriate safety devices may also be necessary during use — consult applicable safety regulations). Canadian compliant (OH&S) designs are also available in some sizes. Handrail brackets are available for application on Heavy Duty Grip Strut steel walkways.
This is a valuable accessory for those projects where utilization of Heavy Duty Grip Strut steel walkway is desirable for its superior long spanability. And handrailing with handrail post on maximum eight foot center is required per OSHA. The handrail bracket eliminates unnecessary and costly substructure to support handrail post.
Splice plates are also available and can help reduce costly material cuts and waste. The Splice Plates may be used at midspan conditions without reducing the load carrying capacity of the Heavy Duty Grip Strut walkway.
See MORE INFO tab for information on finish and options
MATERIALS
Plain Carbon Steel (Hot Rolled Pickled & Oiled)
Galvanized Steel
OPTIONS
Gauge: 10 ga
Tread Widths: 24″, 30″, 36″
Tread Height: 5″ Toeboard
Tread Length: 10′, 12′, 20′, 24′
Highly Recommended!
"Eberl Iron Works, Inc. has met or exceeded our expectations for quality bending of our stair pans and other bent plates. We have yet to encounter any problems with quality or quantities when ordering material with Eberl Iron. Eberl Iron's friendly staff has yet to let us down. We highly recommend Eberl Iron for custom bending."
Johnny | NU Risers Stair Co., LLC
All Of Our Stairpan Business Belongs To Eberl!
"Thank you so much for working with us and replying so promptly. ALL our stair pan business belongs to Eberl. You folks have it earned with your pricing, service and amazing quality."
Great Customer Service and Quality of Work!
"We really appreciate your customer service, as well as your quality of work. The fabricators in my shop prefer I buy stair pans from Eberl, because they are always accurate and fit up perfectly. Thanks again for all you do and we look forward to future business with you."
Great Job!
"Eberl Iron recently fabricated some stair pans for us on a project we had in Woods Hole, Mass. You did a great job!"
Dave I Village Forge Inc.