Custom Diamond Plate Stair Treads Made To Order
Diamond Plate Stair Treads are commonly used to build stairs that do not require a concrete fill but need an anti-slip surface for safe foot traffic. Our Metal Fabrication Services division manufactures diamond plate stair treads from high quality diamond plate steel, also known as checker plate steel, and offers a variety of configurations and lengths to fit your project needs. Standard stair treads are usually rectangular in shape, however, with our laser table and CNC machines, we're able to cut and bend custom shapes and sizes to meet the needs of unique projects. See below how we were able to fulfill an order for custom spiral stair treads.
Spiral Stair Treads Installed at Mt. Morris Dam
Our team of project engineers was recently tasked with designing custom diamond plate stair treads for a spiral stair case replacement project. This unique design was something completely new to our Metal Fabrication division. After putting in 38 man hours, our team was able to utilize our laser table and CNC machines to cut and form custom stair treads to meet the customer's needs. 3/16″ diamond plate was used for this project.
Mt. Morris Dam Facts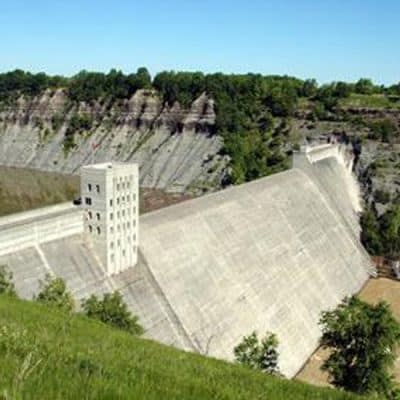 Location: Livingston County, NY along the Genesee River
Construction began in 1948.
Construction ended in 1952.
Built by the Buffalo district office of the U.S. Army Corps of Engineers (USACE)
Project Cost: $25 million
Dam Height: 230 ft above river bed / 790 ft above sea lever
Dam Length: 1,028 ft long
Dam Width: 20ft wide
Stair Components & Systems Is Here To Help
The Stairs Components & Systems division, a part of our Metal Fabrication Services (MFS) division, provides components for the commercial steel stair builders industry. We are a nationwide manufacturer of standard and custom components including metal stair pans, perforated stair pans, stair treads, landing pans, carrier angles and more. See our complete lineup of services and products and don't forget to download a copy of our Stair Systems Catalog. Get your FREE copy today!